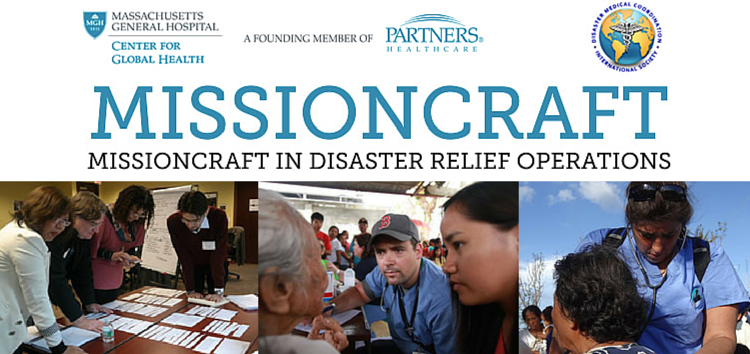 Presented by The Office of Global Disaster Response (GDR) at the Massachusetts General Hospital Center for Global Health (MGH CGH) and Disaster Medical Coordination International Society (DMCIS), Missioncraft is the art and science of preparing and conducting field operations.
This 1-week intensive workshop presents best practices for health personnel in international disaster relief operations, and is designed for experienced humanitarian providers. The workshop aims to enhance skill sets required in leadership roles such as organizational team leader or medical coordinator. Those completing this workshop will gain a comprehensive set of skills in disaster management, clinical appreciation as well as public health competencies necessary for effective leadership and management in the humanitarian space.
Key Topics
Pre-departure preparation
Field briefing
Rapid epidemiological assessment
Field reporting
Standardized case management
Field project management
Tools inventory
Contingency planning and lethal situation management
Technical issues in perfect storms–field agency, cluster system, and donor failures
Dysfunctional staff
VIPs and curious non-producers (politicians, princes and movie stars)
10 key deliverables of medical coordinators
Career development and networking
The workshop is intended for health care personnel such as physicians, nurses, nurse practitioners, physician assistants or other health care providers anticipating future deployments to disaster situations as medical team leaders or medical coordinator.
The Missioncraft program is an innovative blended learning program that combines an online course, in-classroom training, and interactive hands on small group sessions. Each part of the training builds on the former, allowing participants to apply their knowledge in different learning environments and more and more challenging scenarios all the while having a chance to interact with expert faculty and the other students.