Currently 19 million field workers globally; significant number are unprepared and at risk.
Comprehensive, field-tested programs better prepare humanitarian aid workers, which increases their safety and ability to help in crisis situations.
MONTREAL – May 6th, 2015 – An alarming percentage of the 19 million humanitarian and development workers currently deployed across the globe are under-trained and unprepared, putting their lives—and the well-being of the people they aim to assist—at risk. To combat this serious issue, Humanitarian U has launched the first online training and certification program, designed to better prepare humanitarian workers and make them safer in the field, as well as setting a global high standard for humanitarian education.
Humanitarian U has offered training since 2011 to existing and aspiring humanitarians connected to aid organizations such as The Red Cross and the World Health Organization (WHO), as well as partnered with leading universities such as Harvard, Brown, Yale and Toronto to provide corollary education, and with medical institutions such as Massachusetts General Hospital to offer specialized humanitarian medical training.
Through the expansion of its curriculum to an online platform and launch of its certification program, Humanitarian U reinforces its leadership role in the international effort to professionalize the humanitarian sector. Because its graduates have met the certification program's rigorous evaluation criteria, they are the most prepared and sought after aid workers worldwide.
"The unpreparedness of field workers is a crisis I have witnessed first-hand. I knew the global community had to act to establish high educational standards and better equip humanitarians with insight and real-world knowledge" says Kirsten Johnson, an experienced humanitarian, CEO and founder of Humanitarian U, and Emergency Medicine Physician at McGill University Health Centre in Montreal.
"By better preparing humanitarian workers, we make them more effective and safe. And we equip them to best provide outstanding care to those who need it—people affected by crisis, conflict, epidemics and disasters around the globe."
Because unorganized and unprepared field workers waste resources, diminish operational efficiency and can potentially harm the very people they hope to help, certain countries allow only humanitarians with a recognized certificate of training to work there. Humanitarian U's certification program is recognized by authorities worldwide. HU is working in close collaboration with The Global Humanitarian Health Association (GHHA) to establish international accreditation guidelines for humanitarian training programs.
Humanitarian U's instructors are among the most respected professionals working today—from doctors to mission leaders and field directors—all with extensive field experience and insight into best practices. Curriculum is developed in partnership with leading universities and organizations such as the World Health Organization (WHO).
Humanitarian U's multimedia educational programs are unique as they measure the student's performance and assess their knowledge through online monitoring and evaluation. To receive certification students must meet these rigorous performance metrics. The online format allows the student to progress at their own pace through the various educational modules, and the multimedia content is accessible via mobile technology anytime and anywhere—even in the most remote and challenging situations worldwide. Courses offered include Core Professional Humanitarian Training Program, Pre-Deployment Training Essentials, Healthcare Provider Program, as well as custom programs, and other courses are in development.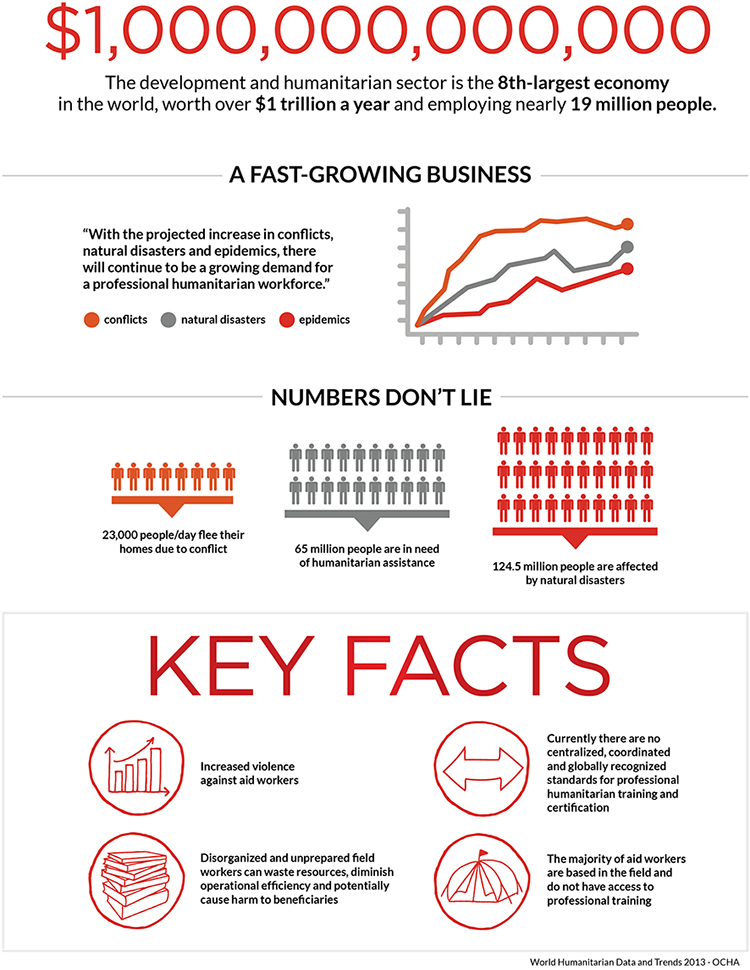 ABOUT HU: Humanitarian U is a leader in delivering professional online certification and training to humanitarian workers around the world. Our proven educational programs yield results, create career paths and realistically prepare humanitarians for emergency response situations. We equip field workers to affect positive change in communities, provide critical medical services, and offer aid to people displaced by conflict and natural disasters.
Founded in Canada in 2011, Humanitarian U supports best practices in humanitarian training and sets a global standard for humanitarian education. Our goal is to increase the preparedness and effectiveness—and thus the safety—of humanitarian actions worldwide. We offer programs geared toward existing and aspiring humanitarian workers from a wide range of organizations, including NGOs, governments, institutions, the medical community, and other relief and non-profit groups.
Educational Partners and Organizations that have integrated Humanitarian U training into their programs: The World Health Organization, Brown University, Cornell University, Harvard University, La Roche College, Massachusetts General Hospital, McGill University, Northwestern University, University of Colorado, University of Miami, University of Toronto, Yale University.